The Civil Rights Council Bori Chapter recently saw the emergence of a new leadership that brought an end to the existing leadership. The congress/election took place at the Paul Naakuu Birabi Conference Hall in Bori, Rivers State. While giving account of his stewardship, Comrade Prince Dukan enumerated the human rights interventions the Bori Chapter has recorded in LGAs and senatorial district. He reminded members of the sole purpose of CRC while charging them to ensure justice prevails wherever they are.
The National Coordinator, out-going chairman and the incoming chairman
The National Coordinator of CRC, Arochukwu Paul Ogbonna gave a solidarity message on behalf of the Executive Director, Social Action. He appreciated their resilience of CRC Bori Chapter and their doggedness in human rights intervention and assured them of support from Social Action. He emphasized the need to document and keep track record of all human rights interventions as this is a determining factor in monitoring the progress of CRC. The National Coordinator encouraged members to work unanimously with security agents while also awakening human rights consciousness among the Ogoni territory as the Ogoni struggle also centres around human rights advocacy.
Representatives from the Gokana, Tai, Eleme and Bori zones also gave their solidarity speeches that centered on the various interventions carried out in their chapters and the progress made so far. Nkpordee Basil gave a review of interventions made by CRC Bori zone which include recovery of stolen properties, stoppage of various forms marital abuse, freeing victims of SAR illegally arrested and help them get justice
Elections to various executive positions was conducted by head count and winners were immediately announced by the adhorc electoral committee. The Chairman elect who gave his opening speech in behalf of his executives thanked members for the opportunity to serve. He assured them that the organization will continue to uphold its purpose to avoid any form of abuse as there is now better access to the people as a result of past interventions.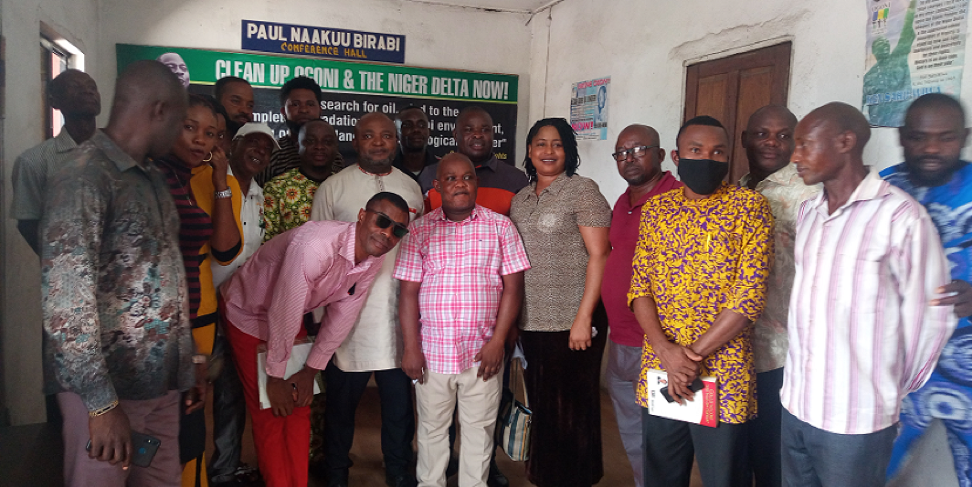 Group photograph of EXCOs and members after the congress
The National Coordinator addressed the new executives and tackled questions on the nitty-gritty of human right intervention and how to apply diplomacy when engaging people and security agencies. "Facts and not hearsay is important" he said. He concluded by urging the zone to expand its scope to universities and secondary schools as these youngsters can act as CRC agents in recording and reporting cases of human rights abuses as a lot of ills happen in such environment.