SECURITY: EVERY MAN'S BUSINESS
On Wednesday, the 28th of June 2023, the Civil Rights Council, with support from Alone (Alone) and Rosa Luxemburg Foundation, convened a momentous one-day Interactive session with security agencies and key stakeholders at Aldgate Hotel, Abacha Road, Port Harcourt. The program was specifically designed to underscore and integrate the critical human rights component within the framework of security services provided to society.
The primary aim was to sensitize security agencies on the paramount importance of operating within the bounds of the law while ensuring the utmost respect for constitutionally and statutorily guaranteed rights. By fostering this understanding, the session aimed to inspire a profound commitment from security agencies in upholding human rights principles throughout their operations.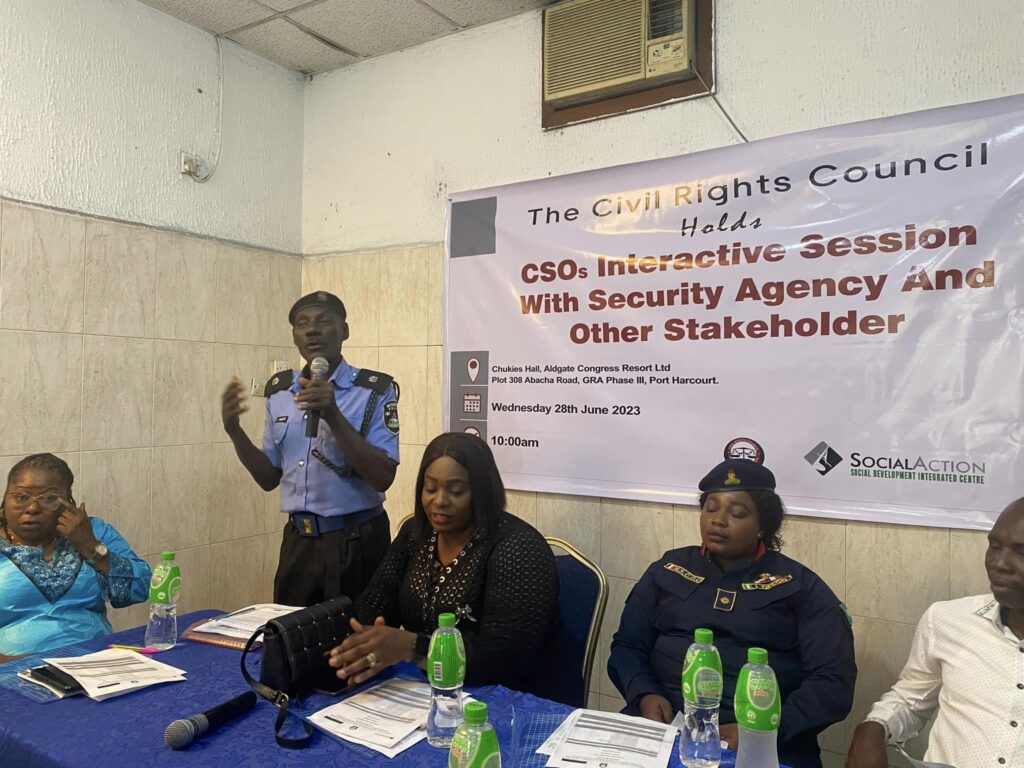 Distinguished panellists and critical stakeholders in the realm of security graced the occasion, including SP Ismailia Yahaya, representing the Nigerian Police; Mrs Celestina Okorie, representing the Economic and Financial Crimes Commission (EFCC); and Mrs Esther Ozuronda, representing the National Drug Law Enforcement Agency (NDLEA). Also in attendance were ASC Ijabor, representing the Nigerian Security and Civil Defense Corps (NSCDC); Mr Tamuno Young, representing the National Orientation Agency (NOA); and Comrd. Sebastien Kplap, the Coordinator of Civil Rights Council Rivers State, alongside other active citizens and Civil Society Organizations.
The interactive session was skillfully moderated by Comrade Ken Henshaw, the Executive Director of We The People, ensuring a dynamic and engaging exchange of ideas and perspectives. With a collaborative spirit and a shared commitment to advancing human rights within security practices, the event served as a stepping stone towards a safer, more just, and rights-respecting society for all.
In order to justify their often unpopular methods of operation, security agency representatives stressed that they are essential for reducing crime in the community. However, civil society members criticised the justifications and the concept of subjecting more innocent people to suffering and often catastrophic losses in order to punish a small number of alleged perpetrators.